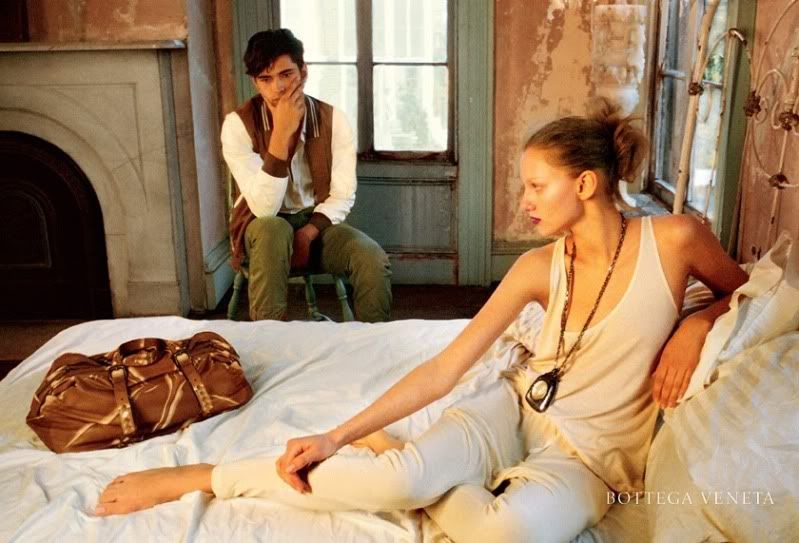 I'm a HUGE fan of Bottega because i think its so understated chic. It isn't at all tacky like some other brands can be (I'm not a big fan of heavily logo-ed products) and like designer pieces to be awash with a luxurious look rather than an ill fitting highly uncomfortable 'LOOK AT ME I HAVE MONEY' aesthetic. i think designer goods should be comfortable and use the finest materials available to create something that is worth its price tag in forms of practicality and style and Bottega Veneta is one such company that is both luxurious and practical.
In saying that, i have always found Bottega's campaigns to be slightly lack lustre (apart from one in 2005-i think, where its in the back of a car and its all white-i'll try and find a pic somewhere) but they have products that far outrun their boring campaigns so they keep selling (did you know they source they're leather from the same tannery as Hermes?) so flipping through my Elle, my Tatler and my Vogue i found the bottega s/s 10 campaign and other than sexy Sean O'pry smouldering in the background i found something really raw about it, raw and humanistic.
I LOVED IT.
I had no idea why (other than sean o'pry) but after a quick google i found that none other than Nan Goldin shot it. bring on major photographer crush...I ADORE NAN GOLDIN...growing up i had nan goldin's self portrait of her bruised and battered face beside my bedside table and naked lithe figures sprawling in bathtubs and beds all shot by Nan plastered my walls amongst pictures of ward and stam-my mother thought i was psychotic....
so there you go thought i would just share that with you....
sorry i haven't posted in a while....have been exceptionally busy with evil classes and work and from wednesday i am free and have a month off work...was thinking of putting my pennies together and going to Goa but i think I'll settle for a weekend in Sheffield and some London madness instead.

and my cameras not working....boo