We are a week into the new year!!
For the past 3 years i've compiled a list of rules and 'tips' for myself in the first week of the year that I have to abide by, I never take them seriously of course but it's good fun. This year i have kindly have decided to share them with you, theyll be in the next blogpost because i have misplaced the notebook with my 'tips'..whoops.
I am supposed to be heading to paris today but due to feeling unwell (since late august) i'm not sure if this is going to happen- i had to take 'urgent' blood tests today and am now on antibiotics and some weird spray pill thing but i love paris so may go anyway am curently listening to I love Paris- Ella Fitzgerald which in my opinion is the best version of the song. Paris other than London (swoon) and New York (ahhh) is my favourite city and i go there whenever i need a break and can get some cash together, I love that place with all my heart, it has proper seasons so you can wear cute summer outfits and then layered winter outfits- lots of fun all round... not really a big fan of places which are hot all year long especially if they are without decent shopping districts.
i really want to go to paris *weep weep* . Perusing Net-A-Porter and saw these gorgeous Guiseppe Zanotti's for £264 and because the ashish leopard shoes didnt fit, i think i deserve these now to satiate my desire and make me feel better about (maybe) not going to paris and the fact i feel to ill to prance into town and buy THAT silk shirt from zara.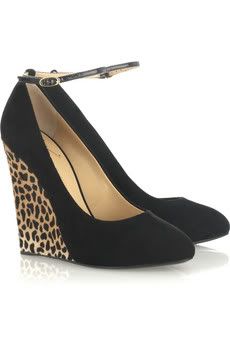 Net-A-Porter
mmmm...